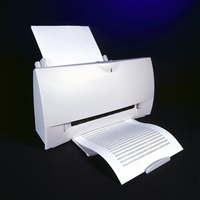 If you are discarding used printer inkjet or toner cartridges, you could be losing out on receiving cash. Instead, you can recycle your used printer inkjet and toner cartridges and benefit the environment while reaping financial rewards.
Bring your used printer inkjet or toner cartridges to Staples, Office Depot or OfficeMax to receive credit toward their respective rewards programs. You can then use the credits to receive a discount on purchases made in these stores. Other retailers accept used inkjet and toner cartridges as well, though you won't necessarily make money.
Go to Staples. Staples gives $3 in Staples Rewards per printer inkjet or toner cartridge for HP, Lexmark, Dell or Kodak cartridges.
Go to Office Depot. Get $3 back in Worklife Recycling Rewards for Lexmark, Dell, HP and Office Depot brand inkjet cartridges. Qualifying toner cartridges are Canon, Dell, HP, Brother, Lexmark, Samsung and Office Depot brand. You can recycle up to five qualifying ink cartridges daily.
Go to OfficeMax. MaxPerks members receive $3 in rewards for each Dell, Lexmark or HP ink or toner cartridge dropped off in an OfficeMax store location. You may bring in up to 10 Dell, HP or Lexmark ink and toner cartridges weekly for a maximum of $30.
Go to FedEx Kinko's. In most Fedex Kinko's stores you can pick up an envelope you can take home and mail your inkjet or toner cartridge to a third-party ink recycler.
Go to Walgreens. Walgreens offers inkjet cartridge recycling. Most 24-hour Walgreens locations also offer inkjet refilling, an easy and convenient option that really helps save the environment.
Go to Best Buy. Drop your inkjet cartridge into the recycling kiosk just inside the door. Best Buy does not accept toner cartridges for recycling.
Start a fundraising effort recycling used inkjet and toner cartridges. EcoPhones.com, ThinkRecycle.com, FundingFactory.com and Recycleplace.com allow you to start a recycling drive for used printer cartridges as well as cell phones.
Go to the U.S. Postal Service. Get a free prepaid mail back envelope for recycling inkjet cartridges. Using this same envelope you can recycle cell phones, digital cameras, PDAs and other small electronics.