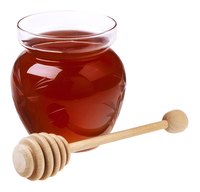 People looking to avoid the chemicals found in commercial shampoo might want to try making their own at home using natural ingredients. Honey is a common ingredient in homemade shampoo because of its hydrating properties. There are several recipes for honey shampoo, all of which require just a few ingredients and a bottle.
Things You'll Need
Screw-top bottle
Honey
Liquid castile soap
Water
Witch hazel
Large egg at room temperature
Wheat germ oil
Rosewater
Lemon juice
Make basic honey shampoo. Pour 1/2 cup of liquid castile soap, 1/2 cup of water and 1 cup of honey into a bottle with a screw-top lid. Place the lid on the bottle and rock back and forth gently to mix the ingredients. To use this shampoo, just shampoo your hair with it as you normally would, leave it on your hair for about 10 minutes, then rinse.
Make honey egg shampoo. Add 1/4 cup of honey, 2 tablespoons of liquid soap, 2 tablespoons of water, 1 tablespoon of witch hazel, 1 large egg at room temperature, 1 tablespoon of wheat germ oil and 1 teaspoon of rosewater into the bottle. Screw on the lid, then shake well to mix up the ingredients. To use this shampoo, work it into your hair as you would regular shampoo, then rinse thoroughly.
Make a simple shampoo rinse. Add 1 quart of lukewarm water, 1 teaspoon of honey and 1/4 teaspoon of lemon juice to the bottle. Replace the lid and shake well to mix the ingredients. To use this shampoo rinse, pour it through your hair, and work it in. But do not rinse it out.