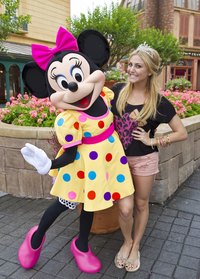 A family vacation to Disney World can easily cost thousands of dollars once you add up tickets, flights, accommodations and food. And that doesn't include all the souvenirs the kids will probably beg for while inside the park. If you can't afford to spend that much on a visit, cut costs in many ways and still enjoy the magic of Disney -- but on a budget.
Tickets
The most expensive ticket you can get is the one you buy at the park's door. Even buying the ticket at the official Disney website will still save you some money when compared to the door price. A number of organizations, including AAA, offer ticket discounts. If your credit card offers a rewards program, it might also be possible to change points earned for a discount or even a full Disney ticket. Military personnel gets a special discount on the ticket price, but that discount varies from base to base. If you plan on visiting Disney World several times a year, you can get a better deal by buying a visitor's pass.
Food
Eating inside the park can get expensive, so a good way to start saving is to make sure you always eat breakfast at the hotel. Disney World also allows visitors to bring food into the park, so buy nuts, cookies or other quick snacks outside the complex for hunger pangs in the mid-afternoon. For affordable eating inside the park, start at any of the bakeries, which are present in all parks, including Magic Kingdom, Disney's Hollywood Studios and Epcot. There, you can buy pastries and cold sandwiches, drinks and even egg rolls and mashed potatoes.
Accommodations
If you have your heart set on staying at one of the Disney Resorts, save money by visiting during the off-season, also known as "the value season." Value season varies depending on the hotel in which you plan to stay, so call in advance. In general, value season covers parts of January and February, as well as most of August and September. At other times of the year, a good way to save is to stay at a nearby hotel. A number of chains, including Best Western (bestwestern.com) and Hilton (hilton.com), have hotels within minutes of the parks. And the Swan and Dolphin hotel (swandolphin.com) is just steps away from Epcot.
Souvenirs
Shop online at the Disney Store for specials and discounted merchandise and bring the items with you to the park for times when the kids ask for a souvenir. Or leave them inside your luggage and share them with the kids once you get back to the hotel. Take advantage of cheap and free opportunities inside Disney World, such as getting pressed pennies from the machines spread throughout the park or sending free video or photo email postcards from some of the booth inside the park.