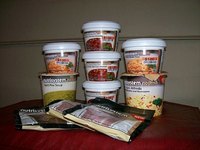 NutriSystem products seem to be very popular. There are advertisements on television with famous faces you know discussing their love for this food. Pictures of the products are in many magazines. Here are some ways to save money if you buy NutriSystem products.
Things You'll Need
Big Lots! Yes, you can find some NutriSystem products at Big Lots. They are usually within a month or so of the expiration date. Several choices were available, and most marked at $1.00 or less.

At www.nutrisystem.com you will find deals that offer a free week when you but several weeks, or sign up for auto ship. Sometimes there is an additional 10% off, or free shipping. This program may give you the help you need.
You can see more NutriSystem items on special on QVC. Visit their website at www.qvc.com, and check out their offers. Also, I noticed some closeout prices.
Ebay often has NutriSystem items. These may be the items in someone's package deal they are not going to use. Why pay more if you don't have to?