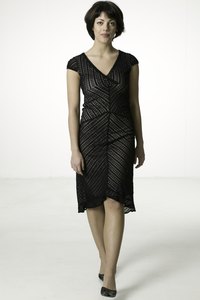 Women with a short body type are generally under 5-feet 3-inches tall, according to Oleda Baker, author of "29 Forever." Women of every body type, even tall women, need to know how to dress to flatter and enhance their natural shape and size. The most important part of dressing for a short body type is creating length and reducing width. You have a variety of ways to effectively do just that, and once you know the basics, shopping and picking out clothes for your body type won't seem like such a chore.
The Rule of Thirds
The rule of thirds is a fairly simple concept, and keeping it in mind when picking out clothes will help you put together a great outfit every time. Following the rule of thirds, your body should be divided up 2/3 to 1/3 by the clothes you are wearing. An example could include a short top and high-waisted pants, which will elongate your legs more than your upper half. Alternately, a long top that comes down below your waist and a pair of slim jeans will elongate your top half. Dresses that stop just above the knee automatically create this look. Dressing using the rule of thirds means you won't be splitting your body in half visually, which will make you look shorter and wider.
Fit
Choosing clothes with the right fit is essential for women with a short body type. Clothes that are even a little bit too large can add extra bulk to your body and make you appear wider than you really are. Unfortunately, this will also make you look shorter. That doesn't mean your clothes have to be skin-tight. In fact, that may emphasize your short body type as well. Pick clothes with a well-tailored look. Look for stores in your area that offer free tailoring services on items like pants.
Color
One or two-color outfits often look best on women with a short body type because they help provide the illusion of length. While layering colors may be visually appealing to some women, it will usually make a person with a short body type appear boxy. If you're bored by monochrome outfits, try adding a splash of a bold, vibrant color that's small but noticeable through accessories.
Patterns
Dresses and tops printed with a geometric pattern are ideal for a woman with a short body type. They work to elongate the body while adding variation to monochrome color schemes. Choose a vertical stripe over a horizontal stripe, which can actually make you appear wider and squat in stature.
Shoes
Not all women want to wear heels all the time, and you definitely don't have to put on a pair of 6-inch pumps every time you leave the house. But even a pair of short heels with a little lift can give you extra height and make your body appear longer and slimmer. If you want to stick with flats, choose shoes the same color as your pants or bottoms to elongate your legs. Boots that stop just below the knee can also work to create length, but you should avoid mid-calf boots.