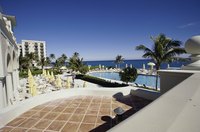 If you have heard about people receiving complimentary vacations just for giving up a little bit of their time to listen to a time-share sales presentation, you might be tempted to get on the bandwagon. Listening to a sales pitch seems like a small price to pay for a few days of vacation fun. However, before you plunge head first into these often-choppy waters, you first need to find out whether you are eligible to receive the offer. If you are, you need to know what to expect once you get there so you don't leave the "free" vacation with an expensive time share that you don't really want.
Call Time-Share Companies
It's easy to find a complimentary or heavily price-reduced vacation time share. You might not need to do anything at all. Many people receive a free offer in the mail or a phone call letting them know they have "won" a vacation. If you haven't received an unsolicited offer, you can visit a time-share forum to get help from experienced time-share owners. The Timeshare Users Group, or TUG, offers a website with a forum where "newbies" can ask questions. You can also call a time-share company, such as RCI or Interval International, to ask about complimentary vacation stays.
Conduct an Online Search
Another method to find a complimentary or price-reduced vacation time share is to type "free vacation time share" into a search engine. Diamond Resorts International, for example, lists more than 300 destinations on its website, all for a fraction of the price you'd normally pay for a vacation. Once you've located time-share companies, understand that certain restrictions for complimentary vacations usually apply. There might be only one offer per household allowed, and the offer might be restricted to couples over the age of 25 who make more than $50,000. You may also need to be employed, have a credit card and pass a credit check.
The Sales Presentation
You and your spouse or significant other must sit through a heavily orchestrated time-share presentation for a designated period. Otherwise, you forfeit your right to the complimentary or reduced-price vacation and will pay full price. A typical presentation from Diamond Resorts, for example, lasts between 90 and 120 minutes. You should decide before attending the presentation whether you want and can afford a time share, as there are many costs associated with owning one besides the initial purchase. You must pay a yearly maintenance fee, which could rise periodically, and possibly property taxes. It's never a good idea to buy on impulse or from feeling pressured.
Feeling Pressured
You should expect to feel pressured when you agree to a complimentary or reduced-price time-share vacation. This business is famous for using high-pressure sales tactics to get people to buy a time share. Salespeople will likely tell you what a "great deal" this is. Your salesperson might tell you that you are receiving a one-time-only deal, which you must "act on now" to receive. Time-share salespeople are one step ahead of you in speaking to any objections or reservations you might have. Many people cave, and wind up leaving as time-share owners.
The Royal Treatment
During your time-share sales presentation, you might be offered food and drinks. Your salesperson will probably try to befriend you. He might invite you to go with him to tour the complex. All this special treatment is supposed to get you to feel obligated to the salesperson and the time-share resort. If you do buy a time share under a high-pressure situation, find out whether you have the right to cancel, typically within three to seven days, after signing the contract. This varies by state.