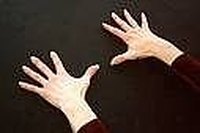 During the winter months your nails can become dry and cracked. Dry cuticles can actually be a sign of poor diet. After a thyroid problem is ruled out, simple changes to your diet, as well as simple cuticle care can help improve your nail bed.
Things You'll Need
Pure Vitamin C Oil
Lotion
File back your dry cuticles. This can be done with a nail filer and a cuticle buff. After doing so, soak your hands in luke-warm water for about three minutes.

Apply pure vitamin C oil on your cuticles. I use concentrated essential orange oil that is easy to apply. However, you can use oil directly from an orange. Rub this into your cuticles and use daily until healed.
Apply a lotion with tea tree and aloe oils into your cuticles. Tea tree lotion will further heal your cuticles and prevent further damage. The Aloe will keep your cuticles moisturized. This should also be done on a daily basis.

Dry cuticles stem from a lack of important nutrients such as vitamin C. Be sure to use a multi-vitamin high in Vitamin C daily. Also, include foods that are high in antioxidants such as Acai Berry and grapes into your daily nutrition regimen. Doing these few, simple things can help improve your cuticles.