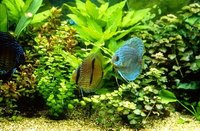 CO2 supplementation is essential if you want to have vibrant healthy live plants in your aquarium. Yes they will survive without CO2 but they will Thrive with it. Following these simple steps anyone can have a beautiful planted aquarium.
Things You'll Need
1C white sugar
1 heaping teaspoon of activated yeast
lukewarm water
funnel
2 litre washed soda bottle with lid.
aquarium airline tubing
airs tone or air curtain
craft iron
Plug in craft iron, when it is hot enough you will use it to melt 1 hole into the lid of your 2 litre soda bottle. The hole needs to be large enough to force the airline tubing into it.
force just enough airline tubing into the cap of the 2 litre soda bottle from the outside in to about 1/4 inch or so.
Place cap back on soda bottle and place bottle on the floor or inside the stand of your fish tank. Then measure enough airline tubing to go from the soda bottle up and into the fish tank to where it will just rest above the level of the gravel. Attach airs tone to the free end or if you choose to use the air curtain attach it now and line along bottom at the back of the tank. Air curtain will more evenly spread the CO2 along the full length of the tank.
Take cap off of the soda bottle and let dangle off the back of the tank. Take the empty soda bottle to the kitchen and fill the bottle to about half way full of lukewarm water.
Using your funnel you will then pour 1 cup of Sugar into the soda bottle. Cover the top with your hand and shake till almost all of the sugar is dissolved.
Add a small amount of lukewarm water to your 1 cup measuring cup and add to that 1 slightly heaping teaspoon of activated yeast. Stir till dissolved, then pour thru funnel into soda bottle. fill bottle to the top of the brand label with cool water. DO NOT OVERFILL!
Take back to where you decided to put the bottle under the fish tank and screw the lid back on the bottle. Now you have your own cheap CO2 generator. Just wash the bottle and recharge as above once a week for healthy vibrant plants.