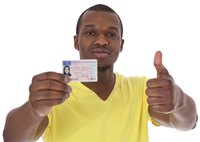 When you plan to drive outside the country, some destinations will accept your U.S. driver's license, but you shouldn't count on it. Many countries will not recognize your American license. Instead, apply for an International Driving Permit, which most countries will accept with your valid U.S. driver's license. Check with the embassy of the country you're planning to visit for specific requirements.
Obtaining Your International Driving Permit
The State Department has authorized two organizations to issue International Driving Permits: the Automobile Association of America (AAA) and the National Auto Club. You must be at least 18 years old, and you'll need a completed application and two passport-sized photos. You'll also need your valid U.S. driver's license. The International Driving Permit is the official translation of your license. If you are already in a foreign country and you don't have the IDP, send the application, photos and fee to AAA or the National Auto Club, and expect to wait at least 4 to 6 weeks to get your permit unless you include additional postage for express mail service.