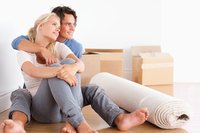 Housing costs are a constant concern, especially when trying decide how to afford an apartment. Whether you are looking at your first apartment or just transitioning to a new place there are ways to pay the costs. Determine how much you can afford, save up for the move, and look at ways to keep costs down.
Budgeting for the Apartment
Before moving into an apartment you need to set a budget and save up for those initial moving costs. Look at your income and decide how much you can afford to set aside and how much apartment you can afford. For instance, someone earning $10 an hour full-time makes about $1,600 in monthly income. Experts recommend only spending 30% of your income on housing. So, you have about $480 a month available for rent. If you can, start setting aside that 30% of your monthly income a few months before moving to pay for the move and build up a little cushion.
Hidden Costs of Moving
Expenses quickly mount during a move. Most people are aware of the usual first month's rent plus security deposit. Landlords usually charge an application fee of between $25 to $100 to pay for background and credit checks. If you own a pet, there is usually a pet deposit of a few hundred dollars plus possibly an extra fee added to each month's rent. Gas and a moving truck or furniture movers cost money too. Van rentals charge for the van plus a mileage charge. After the move, there is an initial cost to get the utilities turned on and installation fees for Internet and cable. You may also want to purchase some new furniture to help fill in your space.
Shop Around for the Best Deals
It pays to look at as many potential apartments as possible. Many landlords advertise their rentals in the local paper, apartment guides, and on rental websites. These larger apartment communities frequently have move-in specials for a free month's rent or a low security deposit. Others have no application fees. Also consider the location of the apartment. You may be able to save gas money by choosing an apartment close to the grocery store and your work place. Keep utility costs low by looking at places where the landlord pays part of the utilities. In some areas of the country, your only utility may be the electric bill.
Get Help Paying the Rent
Sometimes, you need to look at other options for affording an apartment. In high rent areas many renters get roommates and each roommate is responsible for a portion of the rent. Moving in with roommates works best when you have a large enough apartment to offer a bedroom to each person. In extreme cases, roommates do share a room or even convert the living room into another bedroom. Renters with incomes at or below poverty levels may also qualify for a federal rental assistance program through the US Department of Housing and Urban Development.