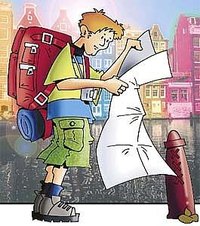 Do you have a travel bug? Are you freezing cold this winter? Do you want to travel the world? Don't have money? No problem, it's time to pack your bags and go!
Get a credit card with Zero percent interest. Almost all the credit card companies are offering zero percent for 12 months. I highly recommend getting a Capital One card as you are charged no International transaction fee. All other credit cards will charge a 3% international transaction fee.
I recommend flying through American Airlines. They have a fly now, pay later program. (6 months later) They also offer the lowest fare guarantee. Check them out at AA.com
Borrowing money does not have to be a burden. You can enjoy your travels and confidently know that you will be able to pay it back later or even while your traveling. If you are able, have a job set up for your return home. This way you will have no worries. Also don't spend more then you can make. Say you have a zero percent interest card for 12 months. Say you travel for 6 months. When you return home how long would it take you to pay it back? On your average job how much do you make in 5 months? Let that be your deciding factor on how much you can spend with your credit card and budget your travels based on that number.