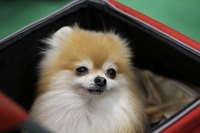 Cute, fluffy little dogs like your Pomeranian aren't supposed to be aggressive; they are supposed to be cuddly. These feisty little dogs sometimes get their role confused and begin growling, snarling and biting. Several causes of aggression include fear, possessiveness, dominance or territorial aggression. Take steps to protect yourself and set your dog on the right track. If aggression becomes worse, you'll need a qualified, experienced professional to help resolve the problem.
Things You'll Need
Take your Pomeranian to the vet for a thorough examination. Inform the veterinarian of the dog's behavior, so that it can be examined for potential medical causes. Dogs hide illness and injury quite well, and with the thick, long coat, a Pomeranian can hide problems even easier. It's natural for a dog to bite when you inadvertently hurt it.
Learn the "Nothing in Life Is Free" (NILIF) program, which is endorsed by behaviorists and the Humane Society of the United States. You teach your dog that you are the leader in a gentle way that doesn't involve confrontation. Your dog must obey simple commands before it receives attention of any kind, such as petting, a walk, playtime or food. This is not cruel, but a very humane and natural way to help your dog understand its place in the family. Every member of the family must use the program.

Avoid situations that you know may result in a standoff, with the dog snapping or threatening to bite you. This is a no-win kind of situation, where your dog will not learn, and you will likely be bitten. For example, if your dog enjoys grabbing the TV remote, snacks or shoes, keep these items completely out of reach at all times while you are retraining your Pomeranian. Don't challenge your dog.
Massage your dog for a few minutes daily, if your dog reacts inappropriately to certain types of touch. Place a muzzle on the dog first, and massage in a deep, rhythmic manner, starting at the back of the neck, where most dogs are comfortable being petted. Work your way down the back and eventually to the legs, ears, paws and tummy. Only spend a minute or two on problem areas initially and then work up to longer times. Consider learning the TTouch method of calming dogs.
Feed your dog by hand, while you hold the food bowl, if your dog is protective of its food. Feed one bite at a time, or a few kibbles at a time. Gradually, move the bowl closer to the dog as you continue to feed by hand. Eventually, place the bowl on the floor, dropping a few bites into it at a time. When your dog is very good at this, put a handful of food into the bowl, and let your dog start to eat, while you gradually add more kibble. Ultimately, your goal is to work up to where you can put food in the bowl or take food out, without reaction from your dog.
Consult a veterinary behaviorist or an experienced behavioral trainer to determine the cause of your dog's aggression and the best way to treat it. Almost all problems, including aggression, can be resolved if you know how. It's not wise to try to treat aggression problems on your own, once your dog has begun seriously biting.