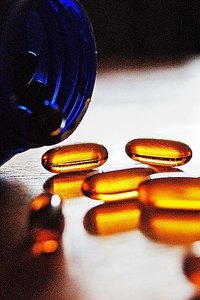 The Transportation Security Administration's (TSA) rules can sometime be difficult to understand. Let's run through the rules and how-to's regarding how to bring liquid medicines on a plane.
Ignore the rules regarding other liquids on airplanes. This includes the rule catchily referred to as the 3-1-1 rule limiting the passenger to liquids in 3 ounce bottles or smaller all which must fit inside a 1 quart zip-top bag. Passengers are also limited to one such bag.
Limit yourself to the amount of liquids you would need for the flight(s) you will be taking or, at most, for the rest of the day. When at all possible, the bulk of liquids should be in the checked luggage.
Declare to the inspector that you wish to bring liquid medicine on the plane. You may bring more than 3 ounces of each, however, you are limited to a "reasonable quantity."
Make your medicines and belongings available for inspection. All of the Transportation Security Administration personnel should be aware of the rules regarding this subject but heavy travel volumes and the enhanced security process may mean longer lines at security checkpoints.