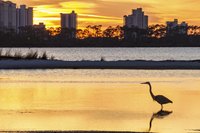 Johnson Beach, part of the Gulf Islands National Seashore that stretches from Mississippi to the Florida Panhandle, is a slice of pristine beach paradise near Pensacola. The beach is within view of condo high-rises a couple of miles away, but you won't find any development on this protected eastern section of Perdido Key. During a time of segregation and Jim Crow laws, Johnson Beach was where African-Americans spent time at the seashore, because they weren't allowed to vacation along nearby strands such as Pensacola Beach. Today, it's a popular outdoor recreation area for all on the Gulf of Mexico.
The Beach
The only facilities at Johnson Beach are some picnic pavilions, restrooms and outdoor showers. And that's it. You won't find convenience stores, restaurants or anything but a blinding white-sand beach, dunes and emerald Gulf waters. If the main beach area is too crowded, head east down the park road to find more remote beach access points. These spots don't have shady picnic areas, restrooms or lifeguards, just a place to park on the side of the road and a walkway to the beach. All vehicles and pedestrians entering this National Park Service unit must pay a small fee at the gate on Johnson Beach Road.
Boating and Fishing
There's a public boat ramp on the bay side of Johnson Beach on Big Lagoon. The boat ramp is also a good spot for launching your canoe, kayak or stand-up paddle board. Big Lagoon is prime calm-water paddling territory. Anglers, whether casting from shore or a private boat will need to have a Florida fishing license and abide by all Florida fishing laws, even inside the area of the National Park Service unit. Locals know that the best place to take in a free Blue Angels practice show is from a boat on Big Lagoon; the renowned precision flight squadron is based at the Pensacola Naval Air Station on the mainland side. Practice shows occur between March and November, usually on Tuesday or Wednesday morning. Check the Blue Angels website for the current practice schedule.
Nature Trail
Across the road from the Johnson Beach parking lot you'll find the trailhead for the Perdido Key Discovery Nature Trail. This slightly elevated boardwalk trail is wheelchair accessible. It's a half-mile-long trail that runs through sand dunes, a grove of scrub pine and around a salt marsh before ending at Big Lagoon near the boat ramp. You can walk back to your car on the boardwalk or take the shorter route along the road to the parking lot. The boardwalk trail contains a couple of scenic overlooks for taking in pristine marshland and lagoon views.
Beach Camping
Primitive camping is allowed on Perdido Key as long as it's a half-mile east of the day-use area at Johnson Beach. The key stretches for a few miles east of Johnson Beach and is completely undeveloped, so this gives campers the opportunity to find a secluded spot, camp directly on the beach and feel as if they have the island all to themselves. Campers arriving by car must register at the gate, get a free backcountry camping permit and pay the entrance fee. Those arriving by boat don't need to register, but must abide by all National Park Service backcountry camping regulations for Perdido Key. Most important, campfires are only allowed on the beach using driftwood as kindling; the sensitive, vegetative dune areas are off-limits to all visitors.