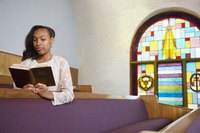 Mission statements help create clarity and practicality around church's often lofty goals. The mission statement announces your business's intentions in three areas, as outlined by Dan Hofstrand of Iowa State University: the vision, or the "big picture" of the business -- the mission, which defines how you plan to achieve your vision; and core values, which define how you treat people and each other as you enact your mission.
Community Forum
Community forums or focus groups provide opportunities to to ask your community what they want from a church and where they believe God is calling them in the larger community. These inform your mission statement. While many answers might not surprise you, such as having a safe place to worship, some might differ from what you expected, such as offering faith-based pet care. Remain open to what your community offers. Janette Nagy and Stephen Fawcett from the Community Tool Box, from the University of Kansas, suggest using some of the following questions to get more information: What is your dream for our community? What would you like to see change? What would success look like? After you compile a list of the expectations of your community for your church, use this list to direct your mission statement.
End Goals
In writing your statement, use visualizing of goals of your church to direct a mission statement. Goals reflect how you see your church at its shining moment. For example, one church'sgoal list might read: providing services to Greene county; outreach to homeless citizens; outreach to victims of domestic violence; bringing God's light to every person who enters. After visualizing and listing your goals, create a mission statement that encompasses this vision.
Writing Your Statement
When writing, construct a statement that encompasses the expectations and goals of your church. Make this statement both broad and adventurous. For example, according to the BYU Manager's Toolbox, "[a mission statement] is more about possibilities than current realities." For example, if your goal is to provide social services for your home county, your mission statement might read: "The mission of Such-and-Such Church is to make God's healing available for all Greene County residents, especially for those who need it most."
Perfecting Your Statement
When creating your mission statement, add modifiers that illuminate your church's core values. For example, if your church holds dignity as its prime value, you may adjust your statement to read: "The mission of Such-And-Such Church is to make God's healing available, in a dignified manner, for all Greene County residents, especially for those who need it most." Always edit your mission statement until it is concise as possible. Try to keep your mission statement restricted to one sentence, so that it is easily remembered and read.