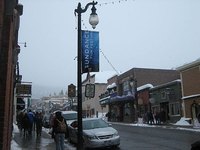 The Sundance Film Festival has been the place for American and international filmmakers to showcase their works and, essentially tell their stories via film to the masses who convene on the quiet towns of Park City, Salt Lake City and Ogden, Utah over a 10-day period every January.
Not being a filmmaker or being tied to the movie industry at all, people are often surprised and shocked when I tell them that I go to Sundance often. Contrary to popular belief, ANYONE can attend the film festival with a little planning. The following steps will outline how to go forth and plan a fun winter trip to take in the movies, sounds, sites and celebrities that make up Sundance.
Things You'll Need
Internet access
Ability to plan in advance
Cold weather gear
Housing
Link to the official Sundance Film Festival website
What month is it? First things first. To get the best possible experience (unless you have friends who have taken care of everything for you and all you have to do is show up) be sure to plan out your trip well in advance. Planning ahead ensures that you aren't paying an arm and a leg for housing, plane tickets, etc. Know that each year that the Sundance Film Festival takes place over the course of 10 days in January. If you're thinking about going, it's not a bad idea to start researching housing in June, July or August (at the latest). Go to the Sundance website to determine the dates for the film festival and start researching housing accommodations. Where you stay could make all the difference between having a good time and having a GREAT time. Also, though the festival is spread out between Park City, Ogden and Salt Lake City, the majority of the action takes place in Park City. So, if you can find housing in/near Park City, you will simplify your life and getting around to see the movies. (Hint: As Sundance is big business to the area, the cost of lodging goes up significantly during the dates of Sundance, so if you can get a group together to go in on a condo, you'll save money and it makes the experience even more fun with friends.) Lastly, booking housing in advance means that you'll be closer to where you want to be as opposed to the outskits of where ever. Remember, Utah is a very big state!

Go to the official Sundance Film Festival website and sign up to receive their email updates. This is the best way to stay abreast of important dates and also, to pre-register for a lottery time to purchase tickets as people outside of the movie industry must register with Sundance for tickets. Once registered, you'll receive an email in the coming months (most likely November time-frame) letting you know whether or not you receive a designated time to purchase movie tickets online on a designated day. Without that special time/day to purchase tickets in advance for the movies you want to see, you'll be left with other options for trying to get into movies. If you don't get a lottery time in advance, don't worry. You can still plan to attend the festival. There are other means of scoring tickets!
Again, keeping an eye on the calendar and knowing how airline prices rise and fall with the season, it's never too early to keep an eye on flights. the best airport to fly into is Salt Lake City International, which is approximately a 40-50 minute drive to Park City, depending on traffic and weather conditions. Also, while shuttles are available to take from SLC to Park City, the prices can range from $50/person on up. If you weren't fortunate enough to secure housing right in Park City, getting around could be a bit more difficult, but not impossible. The festival does a good job of providing free shuttle service all over Park City to all of the theaters with various pick up and drop off points, so again, the closer you are to town the easier getting around will be. We like to rent a vehicle of some type NOT for getting to the movies in town necessarily, but for getting to and from the airport and also, for getting to and from the grocery store as to save money and time on eating out, we stock up on provisions so that we cook at our temporary home on some nights. If nothing else, we also stock up on LOTS of water as the air is quite dry and you can never seem to drink enough water to stay hydrated. Carrying cases of water in the snow across town is not our idea of a good time. (Think of Rocky pulling the log through the snow while training...it would be a bit like that ;-)
As the festival draws closer, consult an email from Sundance or go directly to the official Sundance Film Festival site to see which movies where selected for the upcoming festival. The Sundance Film Guides tend to be released in early December. Be sure to spend some time with the fim guide noting the movies of interest and the times, so that on your designated day/time to purchase tickets you search directly for those films. Knowing what you want to see in advance is helpful, especially as you're only allotted a certain amount of time to make your purchases and you're only allowed to purchase up to four tickets per screening, so again, coordination with friends is helpful. If you're unable to purchase the tickets to the movies you want to see online, don't worry! You will still have other opportunities to do so while at Sundance. Be sure to allow yourself at least 45 minutes in between screenings. The other ways to get tickets on-site during the festival is to get to the box office first thing in the morning to see which shows have additional tickets released and/or people may have turned in their tickets. Another option is to go to the film you want to see and stand in the wait line. Depending on the popularity of the movie, you may be waiting in a wait list line 2-4 hours in advance of the actual movie start time.
So now you're registered, you know the dates that you'll be attending, you have your housing squared away, you have your lottery time for purchasing tickets, you've purchased your airline tickets, you've decided on whether or not to rent a vehicle (again, make sure this is done in advance as you can imagine that waiting will almost guarantee that you are vehicle-less. Also, traffic and parking in Park City is tough, so think of using your vehicle only when you absolutely need to, otherwise, rest-assured that you can rely on the free shuttles and sometimes local cabs)...Now all you have to do is wait for the festival to start.
Again, you don't need to be in the movie industry to attend Sundance. You just need to be sure to plan ahead and plot out your experience. Once there, know that reservations at restaurants are hard to come by unless you make them in advance and even then, know that there will be at least a wait of 30-45 minutes. Also, Utah has pretty specific ordinances around drinking, so be sure to do that research ahead of time. Most parties, unless you have a friend with a hookup, are closed to the general public, so feel free to stand around and gawk if you want and even try to press you luck to get in. We prefer to keep moving to see other movies or getting inside someplace warm. Don't forget the Park City is a ski town, so there's lots of great times to be had on some of the local mountain resorts. If you're into snowboarding, not all of the local resorts will welcome you. Park City Mountain Resort is not only close to town, but it's open to snowboarders and skiers AND they are WIDE open as most folks are in town. If you set aside one day for getting up, your reward will be long, beautiful runs that you'll have mostly to yourself.

Advance planning can help you save time, energy and money in the long run, whether it's lodging or waiting in the wait-list lines. Also, some folks choose to volunteer at the festival each year as they save on housing and tickets to get into the movies. If you want to attend and have a little something extra to do, check out what it takes to be a volunteer, but know that, like most other things, you must look into signing months in advance to be a volunteer. What ever you choose to do, have fun and enjoy the full-on creative vibe that is Sundance. See some of your favorite celebrities attending their movies and participating with the directors and writers of the films during the Q&A sessions that happen immediately after the films. What better way to support film making at it's best than by attending the nation's largest film festivals and get a taste of the films before they are distributed nationally/internationally than by attending Sundance?