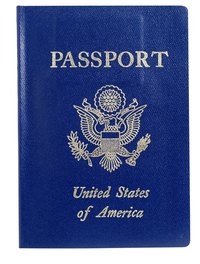 Since July 2008, the U.S. government has issued passport cards in addition to the traditional passport books. Issues such as cost, the types of journeys you can undertake and how concerned you are about your personal security may influence which of the two you choose. Bear in mind that it's not an either/or choice: You can hold both a passport book and a passport card at the same time.
Physical Differences
A passport book is what many people think of as a passport. It's a small book, measuring 5 by 3.5 inches when closed, with pages inside that immigration authorities use to record information. This could be as simple as your date of entry into another country, or a visa to allow you to work or study there. The passport card is designed to fit inside your wallet. It's a single piece of plastic showing your photograph and some basic information about you, and resembles a driver's license.
Restrictions
Consider the types of travel you need the passport for when deciding between the book and the card. Passport books have no restrictions on their use. You can use them as identification for all international travel, whether you're traveling by land, sea or air. Passport cards, on the other hand, come with a set of restrictions. You cannot use your passport card for any international travel by air, no matter where you're flying to or from. They are, however, valid at land border crossings and seaports, as long as you travel from the United States to Mexico, Canada, Bermuda or the Caribbean and back.
Cost
Cost is a factor for many travelers. If you are unlikely to be traveling by air or outside North America and the Caribbean, you can save some money by choosing the passport card. For first-time applicants, the passport card costs only $55 and $40 for those under 16; renewing your passport card costs $30. Passport books are more expensive -- your first one will cost $135 and $105 for minors, and a renewal costs $110.
Security Features
Both passport books and cards incorporate security features that help reduce the chance of someone using your passport fraudulently. Since 2007, all new passport books have included a small chip that carries information about you. This includes biometric identifiers, such as fingerprints, iris scans and facial recognition. Passport cards also contain an electronic chip but do not carry biometric information, just a number that identifies you in government databases.