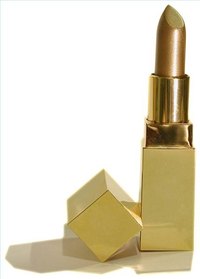 Approximately 92 million American women apply lipstick each day. Lipstick is a popular cosmetic and has been around for many years. The first report of lipstick was in 60 BC, long before commercial cosmetic companies existed. Making your own lipstick at home is often cheaper and more natural than mainstream lipstick products. But many women aren't sure where to start. Here's information on making your own.
Things You'll Need
Pan
Castor oil
Iron oxide
Mica powder
Beeswax pearls
Lanolin
Carnauba wax
Vitamin E oil
Grapefruit extract
Clear off a working area in your kitchen. The best place to create your lipstick is in the kitchen because you need to melt ingredients in a pan. Clean off an area next to your stove to mix ingredients.
Gather castor oil, iron oxide and mica powder. Mix the ingredients in a small pan over low heat. If you don't like the look of the color, try adding more mica powder or iron oxide until you achieve the desired color. Stir the mixture well until all of the lumps are out.
Add beeswax pearls, lanolin, carnauba wax and Vitamin E oil to the mixture. Mix well until all ingredients are completely melted.
Remove the mixture from the heat and allow to cool. Once cooled, add a few drops of grapefruit extract and your favorite scented oil. Using a cranberry or berry oil adds a nice effect.
Pour lipstick into tubes. You can purchase empty tubes from your local beauty supply store. Fill each tube until completely full and seal tightly.