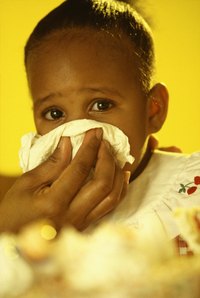 When your baby has a viral infection, she will likely suffer from nasal congestion and a runny nose. Besides causing her pain and distress, congestion can interfere with eating, drinking and sleeping. Treat your baby's symptoms by taking steps to soothe her nasal passages and alleviate her congestion and stuffy nose.
Relieve the Symptoms
There are several steps that you can take to make your congested baby more comfortable. Use a rubber-bulb syringe as often as needed to extract mucous from the nasal passages. Many parents find that sitting in a steamy bathroom for a few minutes will loosen the mucous, making it easier to get out. Offer your baby plenty of fluids and check that he is wetting several diapers each day. Apply over-the-counter saline nose drops inside each nostril to loosen up mucous. Use lotion-infused tissues to wipe your baby's nose, so he doesn't develop a rash.
Tips for Sleeping
Your baby will have a difficult time sleeping while she is congested. Help her get the rest she needs by putting her to sleep upright, so the mucous can drain properly. Place your baby in a car seat or swing at night after ensuring the location is safe and secure. You can also place a foam wedge under the baby's mattress to elevate her head while she sleeps. Put a cool mist humidifier in your baby's room to keep the nasal membranes moist. Always aim the humidifier away from her bed, so the bedding won't get damp.
Things to Avoid
Congestion symptoms in babies are not treated the same way as in older children or adults. Don't give your baby cough and cold medications because they are not safe until after two years old. When clearing a stuffy nose, never put cotton swabs or other foreign objects into your child's nostrils. Humidifiers are helpful for congested babies, but they can cause problems if you neglect to clean them correctly every day. Dirty humidifiers will circulate mold and germs throughout your baby's room, making his congestion worse. Keep your baby away from other sick people, so his weakened immune system won't encounter more viruses.
Warning Signs
Nasal congestion caused by a virus will generally resolve itself after several days. In some instances, congestion is a symptom of a more serious illness. Keep an eye out for warning signs that you need to take your sick baby to see a doctor. Warning signs include if your baby is fevered, gasps for breath, coughs or wheezes, or otherwise acts exceptionally distressed. See your doctor if your baby refuses to eat or drink, or is not wetting at least two diapers each day. Watch for allergy symptoms, such as watery eyes, swelling in the face or neck, or a rash around the lips. If your baby is under three months old, see a doctor about the congestion, as it can lead to more serious illnesses and infections.