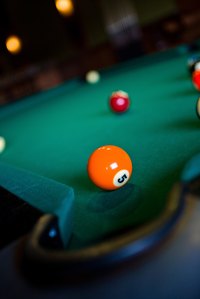 If you love sports and know people who love sports, planning a sports bar is a possible dream. Understanding your target market is easy because you know people who enjoy the camaraderie of a sports bar. Getting a handle on your start-up costs is a necessity. Setting up your operations properly will get you on the fast track to success with your sports bar. A great marketing plan will assure you of building the best sports bar anywhere.
Find your target market. Understanding how many other sports bar fans with the disposable income to frequent your bar are in your neighborhood can be the difference between the best sports bar and the quietest sports bar in town. Don't get too caught up in the immediate area yet; there will be a variety of locations for your sports bar within a comfortable commuting distance. Research the demographics of no less than 100 miles. The local Chamber of Commerce and the SBA are a great source for this research. Research the existing bars in your 100-mile radius. Be sure to keep detailed notes on your potential competition. Gather as much information as you can on your target market.
Calculate your start-up costs. Building a sports bar is a full-time plus overtime job, so crunch some very important numbers. Accounting for every cent before the first cent is spent is the key to budgeting and operating your sports bar in the black as soon as possible. You will need a pen and a piece of paper or your favorite spreadsheet program and the time to build a detailed list including these categories: Formation, Construction, Equipment, Deposits, Inventory, Recruitment and Training, Marketing and Insurance. Under the Formation column list, incorporation fees, legal fees, licensing fees and any other professional fees that need to be paid before opening. The Construction column will vary depending on your scenario: New construction, leasehold improvements or upgrades are a possibility depending on your perfect location. Include any costs incurred for any expenses that are permanent to the location included in the construction column. The Equipment Column will include all items purchased for the operation of your sports bar that are not considered consumables. Deposits are self-explanatory but they need to be listed, as they are assets to your books. The Inventory column can be a great way to start your inventory control system. You will even need to list kitchen items if you are planning a full-service kitchen. Recruitment and Training is an important column that can even include uniform purchases. You wouldn't normally see Marketing as a start-up cost but your opening blow out should be included here. Insurance is also an ongoing expense but in some cases it needs to be prepaid, so be sure to include it in your sports bar start-up budget.
Write down your operations policies. You've gathered all of your trained professional sports bar employees (or like most, your best friends), come up with a good schedule, an opening team, a closing team, a bar register, a waitress register, a kitchen inventory system and a bar inventory system; talking about, and writing about and following, a system can be the difference between success and failure in the bar business. Sit down and write, or have someone write, an operations manual for you, so if employee A socks employee B in the mouth everyone already knows what you are going to do. Include personnel rules and regulations, inventory controls and pricing that you have established. Establish operations policies for your patrons, and detail what your employees should do if one has had too much to drink and becomes unruly.
Market your sports bar. Just like Christmas is to retailers, every sports bar needs its Super Bowl or Stanley Cup or World Series to be the best in town. Prepare a huge, no-holds-barred event to market your Sports Bar. A great energy level, giveaways, contests and entertainment will put your sports bar at the top of everyone's list. Plus, your marketing budget can be set for promotional ideas to grow. You may even be able to get local sport's celebrities to attend your opening party; remember most sports teams support a certain charity, so you could offer to donate a portion of the proceeds of your event to their favorite charity to get additional advertising for your sports bar.