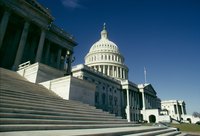 Washington, D.C., the national capital of the United States, offers visitors magnificent public buildings and monuments, parks and dozens of museums. It's also a city with plenty of great restaurants and a variety of hotels and other accommodations. The Metro system is one of several transportation options.
If you are planning a visit to our nation's capital, there are a number of places you don't want to miss. If you are arriving at Reagan National Airport in Arlington you can always take the Metro into the city, but you could also hop into a cab and ask the driver to take you to "The Mall" by way of the George Washington Memorial Parkway.
Ask the driver to point out the landmarks. On this route, you should be able to see the Pentagon, Arlington Cemetery, the Washington Monument and the dome of the Capitol Building. As you cross the Potomac River, you'll get a tingle down your spine as you see the great monuments on the Mall come into view. Approaching from the west, you will see the Lincoln Memorial, the reflecting pool, the museums that make up the Smithsonian and finally the Capitol Building.
You can have your driver then turn and head back toward the White house. Pennsylvania Avenue around the White House may be blocked off, so you'll have to get out and walk a few blocks to see the entrance. If you want to take the White House tour, though, you need to request tickets through your member of Congress at least three weeks before your visit.
Allot at least one day of your visit for the Smithsonian Museum, which includes the popular Air and Space Museum, Museum of Natural History and the Museum of the American Indian, among others. Take the Metro to the Foggy Bottom/George Washington University stop and walk to Georgetown. A historic "village" on the Potomac River, Georgetown offers a selection of great restaurants and shopping on "M" Street and Wisconsin Avenue.
You can rent some bicycles on "M" Street and cycle through the neighborhoods in Georgetown. Boxwoods, ivy, cherry blossoms, magnolia blooms and arbors dripping with purple wisteria in the spring will fill your senses to overflowing. Walk down to Georgetown Harbor, where you can look across the Potomac to see the Watergate Hotel and Kennedy Center for the Performing Arts. History is all around you. If you visit in the fall, you can watch the sculling races on the Potomac River.