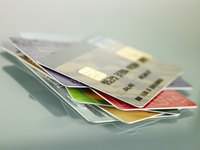 Many credit card companies offer an instant approval or denial if you apply for a credit card online. The applications are relatively easy to fill out and, with the click of a button, you will have your answer almost immediately. Your answer might not be what you would like if you have bad credit but at least you will know right away whether you have been approved.
Apply for the Capital One Standard Platinum card. You can apply for this instant approval credit credit card program by visiting Capital One's website at capitalone.com. This card provides unsecured credit, so your credit must be on the average end for approval. If your request for the standard platinum card is denied, you may be able to secure a Capital One Secured MasterCard. This card allows a $200 line of credit for a $49 security deposit, according to CNN Money.
Apply for an Orchard Bank credit card at orchardbank.com. CNN Money lists Orchard Bank first on its list of the seven best credit cards for people with bad credit. As of CNN's April 2011 article, Orchard Bank offers three unsecured credit options and one secured credit option. If you only qualify for a secured credit card, Orchard bank does require a $200 deposit, as opposed to Capital One's $49; however, the interest rates on Orchard Bank credit cards are competitively low, and Orchard may waive your first year's annual fee.
Sign up for a Mango Prepaid MasterCard if your credit is really bad at mangodebitcard.com. These cards work just like your debit card; you put money into your account and then spend it using the card instead of cash. CNN Money cautions using prepaid credit cards because the fees are notoriously high. Mango, however, offers, "some of the lowest fees in the industry." The good thing about a prepaid card is no interest rate because you are not carrying a balance; the bad news? These cards do not report your activity to the credit bureaus, so getting one will not help you rebuild your bad credit.