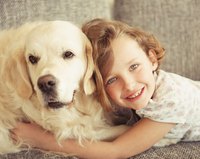 Owning a dog is a big responsibility that involves a long-term commitment. Because they're companion animals, canines bond with their families. Unfortunately, people sometimes buy or adopt a dog on a whim without considering how that dog would fit in their lives. If the dog isn't a good choice, you might contemplate giving the dog away. Giving away your dog might be the best option for you and for your dog, but you should explore all your options before taking that drastic step.
Reasons People Consider for Giving Away a Dog
Dog shelters are filled to capacity across the United States, often from people giving away a dog. Common reasons people give away their dog include:
Dog behavior problems
Family member with allergies
New baby in the home
Fighting with other pet
Moving
Cost of dog ownership
and dog health problems
Solutions
Many of the problems people experience with a dog can be corrected.
Behavior problems signal that the dog hasn't been properly trained. Dogs need to be housebroken, socialized and taught obedience. This requires hours spent, ideally involving you, teaching the dog. A professional dog trainer can help if you don't know how to train a dog.
It might be possible for people with allergies to live with a dog once allergens are eliminated from the home. Keeping the dog out of your bedroom to ensure a good's night sleep, vacuuming often, using a high-efficiency particulate air filter and bathing your pet and washing his bedding weekly can help allergy sufferers.
Problems such as a new baby in the home and fighting with other pets fall under training issues. You can teach your dog boundaries regarding your baby and how to prevent your pets from fighting with each other, both of which a dog trainer can help you with.
When your dog gets old or has health issues, the situation requires extra time and care from you. Your veterinarian can counsel you on how to care for a sick or old pet.
Sometimes You Have No Choice
Certain situations cannot be corrected, and you have no choice but to give away your dog.
If you're moving to a place that doesn't accept dogs, or are in the military and are deploying to a war zone, you can't take your dog.
The cost of dog ownership could prove to be too expensive for you. It could cost between $700 and $2,000 in the first year alone to own a dog. Here's a checklist of expenses that you should consider before you take in a dog:
Vet bills -- includes spaying and neutering, routine medical care and sick care
Training (if you hire a professional)
Food
Toys
Groomer and/or grooming paraphernalia
and boarding when traveling (or hiring a pet sitter)
If You Must Give Away
Pets are family members that shouldn't be easily discarded. Still, if you must get rid of your dog, find a reputable no-kill shelter or breed rescue organization. Do not give your dog to someone you don't know. Your pet could be abused or be used for dog fighting, warns Phyllis DeGioia, editor of VetzInsight, part of the Veterinary Information Network.