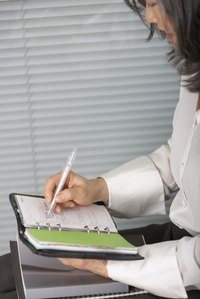 They say time is money, yet money is open-ended and time is not. You can earn wasted money back and then some. Once wasted, time is merely gone. Squander it at work and you may lose promotions and raises, while increasing your stress and perhaps the amount of time you have to spend there to get the job done. It behooves us, then, to master our time with practices that aid productivity and efficiency.
Things You'll Need
Binder and loose-leaf paper
One-page-to-a-day appointment book with room for notes,
Preliminaries
Set goals. Do you want to get ahead of work in order to schedule time away? Do you want your desk cleared of paper? To achieve goals, you must focus squarely on them.
Write down tasks necessary to achieve each goal.
Create a list of rewards you'll gain for task completions or a good workday.
Create a master to-do list. If your list promises to be long, you'll need an organizing principle to start: Begin with four sheets of loose-leaf paper. The first page holds tasks with deadlines; the second holds urgent tasks -- those demanding immediate attention, even without a formal deadline. A third page holds important tasks, those that aren't necessarily urgent but are important, often more important than urgent tasks. The fourth page holds low-priority tasks.
Add the goal list with its associated tasks to the binder. Insert the reward list.
Daily Management
List tasks in the master list as they arise, including deadlines. Relying on memory invites disaster.
Evaluate and adjust the master list. Priorities change, deadlines shift. Such fluidity is normal. Look also for tasks that need to be broken into components to better accomplish them.
Estimate how long tasks will take. Your accuracy will improve with practice. Notice tasks that need to be spread over days or even weeks. Some tasks may require deadlines.
Pull tasks from the master list to create a daily plan, including tasks with deadlines, urgency, importance and those that lead to achieving a goal. Do it first or last thing every day.
Schedule tasks in pencil and include a free block of time. This block will provide wiggle room should something unexpected arise. Create regular times for eating, breaks and routine tasks like email or phone calls.
Choose a goal to complete for the day and the reward you'll earn.
Jot starting and ending times for each task in the appointment book as you work. Note interruptions or diversions. Be honest.
Adjust your schedule if it becomes necessary.
Re-evaluate the schedule at day's end, analyzing why you did or didn't accomplish what you wanted. Notice when and why you got the most and least done in order to play to your strengths and minimize your weaknesses. Create a better plan for the next day, regulating bad habits.