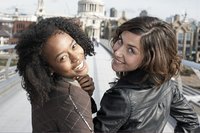 Your partner in crime is a blast at the bar, but getting stranded in an airport overnight is when you'll see each other's true colors. Traveling with your best pal can solidify your bond forever. It can also cause tension and hurt feelings. To make sure you're still besties when you return home, start your travel planning by putting all your cards on the table and being honest about what you want.
Start With the Budget
Talk about money before making any other plans. If one of you is picturing a luxury cruise and the other a budget hostel tour, neither of you will be happy. Discuss how long you have to travel and what you can each comfortably afford to spend per day. Maybe you'll agree on a number. If not, the friend with the bigger budget can spend extra dough on excursions and shopping, but you should agree to keep necessary expenses -- such as airfare and hotel charges -- within the other friend's smaller budget.
Pool Your Planning
Use technology to share ideas and planning duties so everything is equal. A number of travel websites and smartphone apps allow multiple people to contribute to the planning of a trip. Using the same account, you can each research potential destinations, start planning a daily itinerary and keep track of your budget and reservation information. Alternately, have a face-to-face planning meeting to pitch destination ideas to one another or scour guidebooks to choose a destination, then make your reservations together.
Discuss Expectations
Your best friend may be a morning person at home but loves to sleep in on vacation. Discovering that fact on the morning you planned a sunrise hike breeds tension. Before you leave home, talk about what your ideal trips look like. Talk about your eating, sleeping and sightseeing preferences and where you're willing to compromise. If one of you loves swanky late-night meals and the other prefers snacking at street vendors all day, you can agree to eat breakfast and lunch together and split up for dinners.
Make Money Plans
Make a plan for handling shared expenses. Perhaps you'll each contribute an equal amount toward a cash fund or prepaid debit card to use for taxi rides, restaurant bills and hotel fees. Alternately, you can opt to take turns paying for these charges, or decide that one of you will handle these expenses and the other will pay back half at the trip's end. If you plan to rent a car, one of you should be prepared to provide the rental company with a credit card to use for a deposit and to keep on file.
Compare Notes
Use one another as a sounding board when you're preparing to leave. Compare packing lists to make sure you both bring clothing appropriate for your itinerary. Verify that you each have your IDs, any necessary travel documents such as passports and visas and that neither of you has forgotten medications or chargers for your gadgets. You can also each verify that the other is not under- or overpacking. You shouldn't have to help lug your friend's three suitcases around Europe.