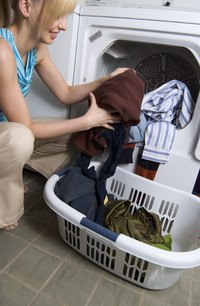 If you have kids, somewhere along the line they probably have left wet towels under their bed or spilled liquid on a shirt and left it on their floor under a pile of clothes. However it happened, when you find the piece of clothing you may think it's ruined since it has patches of black-colored mold on it. Don't just throw that clothing away, though. In some cases it is possible to save it.
Things You'll Need
White vinegar
Moldy clothes
If the mold is really bad, scrape off the worst of it with the bowl of a spoon before trying to clean it. There will be some that won't scrape off because mold grows into the clothing fibers, but you should be able to clear a bit off.
Take the vinegar and pour about a cup of it into the sink. Mix into that about three cups of water. Immerse the piece of clothing in the vinegar water mix and then take up two handfuls of the fabric and use one to scrub at the other side. It won't come completely clean, but try to get a good layer of the mold off.
Put the garment in the washer. Wash it like normal, but add a splash of vinegar to the rinse water. The vinegar removes the odor of the mold and will disinfect the fabric. The vinegar smell will quickly dissipate as it dries.
After washing, if the mold stains don't come all the way out, you can put it in the washer again. The fabric will probably always be stained, but the clothing can still be used for play clothes or something to wear around the house. Because the spot where the mold was will be weakened by the mold having grown into it, sewing a small patch onto the backside of the fabric will help prevent stress being put on the spot and keep the spot from ripping open.