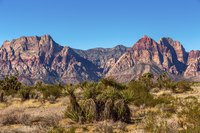 When you tire of the hoopla of the Las Vegas Strip, few nearby places provide a better natural respite than Red Rock Canyon in the Summerlin area. It was here that early American travelers stopped to rest and drink up; today, visitors enjoy the scenic beauty and historic significance of the surrounding red-walled mountains.
Onward from Vegas
It's about a 20-minute drive from the heart of Sin City to Red Rock Canyon. Take Charleston Boulevard west and follow it as it becomes Nevada 159. You'll see the turnoff to the canyon on Red Rock Scenic Drive. The Red Rock Resort is located at the turnoff. Follow that road about a mile to the visitor center. You'll pay a small admission fee per car to enter the park.
Getting Started
Stop into the visitor center to learn more about the canyon before you start your exploration. Spend about 30 minutes to an hour viewing the interpretive exhibits, which tell you about the natural and cultural history of the area. Rangers here can help you with information about the park's hiking trails or provide backpacking permits if you want to hike deep into the mountains and camp overnight. Don't forget to grab some bottled water or other beverages from the vending machines before you depart. It's easy to dehydrate in this hot, arid area without realizing it.
Hit the Loop; Take a Hike
After leaving the visitor center, follow the 13-mile loop road that snakes around the canyon. There are numerous stopping points along the path. Some simply provide panoramic views of the countryside, while others have short walks to petroglyphs carved by the Native Americans who once lived in the canyon. If you want to see what drew travelers to this spot, walk the trail to Lost Creek, where a 1-mile hike leads to a waterfall. Or try the Pine Creek Canyon trail, a 2-mile round trip to the remnants of a creekside home site.
Recreation Opportunities Abound
You can ride a horse through certain trails in the canyon. If you don't have your own, several outfitters provide guided equestrian tours of Red Rock Canyon. The same is true for rock climbing, a popular pastime here. Either hire a guide or bring your own equipment. You'll probably have a lengthy hike to the rocks, and you can get a permit from the visitor center to stay out two hours after the scenic drive closes. The Bureau of Land Management runs a campground 2 miles east of the visitor enter, with primitive facilities for both tent and RV campers.