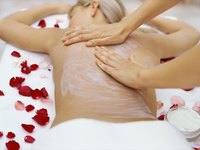 Nothing can dull your complexion more than dry, flaky skin. The good news is that there's fresh, glowing skin underneath waiting to come out. You just need to know how to reveal it. Exfoliating body scrubs can do the job, leaving you with smooth, silky skin. You can go to a spa for this treatment, but be prepared to fork over some cash. Or you can just whip up your own scrub at home and pamper yourself for a fraction of the cost.
Things You'll Need
2 cups Kosher salt or sugar
1 cup sweet almond, grape seed or olive oil
10 to 15 drops essential oils
Resealable plastic storage container
Spoon
With clean hands, pour the kosher salt or sugar the plastic container. Break up any large clumps that may be present in the salt or sugar.
Pour the base oil into the container with the salt or sugar. It is best to use an oil that is mild in natural fragrance, like sweet almond oil. Oils with a strong fragrance may alter the overall scent of the finished product.
With a spoon, stir the mixture until combined. Add the essential oils of your choice. Continue to stir until mixture is thoroughly combined, and the aroma suits your personal taste. Consider mixing two or three of your favorite essential oils for a customized blend.