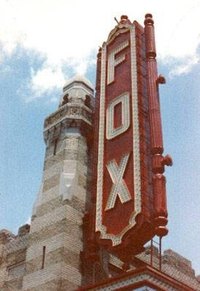 Atlanta's historic Fox Theatre was constructed in the late 1920s and has a long and dramatic history. The theatre, commonly known as The Fox, was a religious headquarters in the '20s and '30s, movie palace from the '40s through the '60s, and has been a celebrated facility of concerts, theatre, dance and opera performances, and political receptions ever since. The theatre has survived financial turmoil, industry competition and Atlanta's real estate expansion. The structure and interior decor of this national historical landmark is rich with detail, a combination of Islamic and Egyptian architecture. The theatre is also home to the famous Mighty Mo pipe organ. It is estimated that more than 750,000 visit The Fox each year. Following a few simple steps will help anyone attend events and enjoy their experience at Atlanta's historic Fox Theatre.
Get a Fox Theatre event calendar. It can be viewed online (see the links in the Resources section) or requested by mail if a self-addressed, stamped envelope is sent to: The Fox Schedule, 660 Peachtree Street N.E., Atlanta, GA 30308. Some annual highlights are "The Nutcracker Ballet," the "Delta international" series and award-winning plays. Additionally, tours are given several times a week. To learn more about tour schedules, call (404) 688-3353.
Buy admission tickets. Purchasing event tickets can be done online (www.ticketmaster.com), over the phone (call (404) 817-8700), or in person at the Fox Theatre's box office.
Dress appropriately. For most Fox Theatre events, appropriate attire ranges from casual to dressy. However, formal wear is traditional on opera nights.

Get there. The address of the Fox Theatre is: 660 Peachtree Street NE, Atlanta, Georgia, 30308. If taking Atlanta's transportation system, MARTA, take the Rapid Rail to North Avenue Station. The Fox Theatre does not having any parking facilities; however, several parking garages are located on Peachtree Street, 4th Street and Ponce de Leon Avenue. Fees range from $5 to $20, and can be pre-paid if purchasing tickets through Ticketmaster.
Experience Atlanta's historic Fox Theatre. From a Broadway play to the Atlanta ballet, there's always something new to experience.