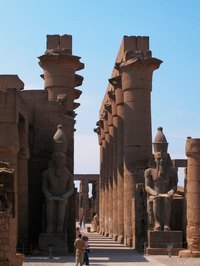 The renowned beauty of Egypt's last Queen, Cleopatra, is legendary. Attracting the attentions of great leaders such as Caesar and Marc Antony, Cleopatra's allure has been unmatched. Archaeologists and other scientists have been able to unearth discoveries that reveal the secrets to Egyptian beauty. Cleopatra and other Egyptian women spent much time and resources on skin and hair care, as well as some of the earliest makeup products.
Things You'll Need
Using Aromatic Oils
Use essential oils to smooth skin and to achieve a glowing look, just as Cleopatra did. Fragrant oils also make a pleasant substitute for chemical based perfumes. Besides a relaxing beauty aid, essential oils were also used to treat illness, as well as for emotional and spiritual needs.
Rubbing your skin with essential oils exfoliates the dull and dry uppermost layers of the dermis. You will have shiny, healthy and younger looking skin using Cleopatra's method. Rub your favorite essential oil blend into your skin after drying yourself after a bath or shower. This is also a way to calm yourself after a long day.
The Egyptians also knew that essential oils beautify the inside of you body as well as the outside. Inhaling essential oils through the lungs and absorbing oils into the bloodstream through skin application affects the the limbic region. The brain triggers the pituitary which in turn regulates the body's hormonal balance, making you feel restored.
Milk Baths
Purchase or make your own milk bath mixture to add to the bathtub. It is said that Cleopatra liked to bathe in milk of an ass for toning and moisturizing her skin. You can find mixes that use powdered milk, natural fragrances such as mint and lavender, and skin smoothers and exfoliaters such as honey and cornstarch.
Add the desired amount of the milk bath mix to a warm bath. Mix into the tub water with your hands.
Soak in the bathtub until the water gets cold. Rub the milk bath mixture into your skin. Do not rinse. Cleansing, moisturizing and toning with milk bath mixtures is one way to use Cleopatra's secret for attaining glowing and refreshed looking skin.
Line Eyes With Kohl
Use kohl liner to draw attention to your eyes. Apply makeup normally, except for eyeliner. Wait to apply eye shadow until after you have applied kohl liner.
Pull down the lower eye lid and line the inside of the lash line with the kohl. Apply kohl to the inside of the upper lashes by pulling the eyelid down.
Add drama by making a tail with the kohl liner at the outside edges of the eye. This cat-eye look is too dramatic for work, so wait until the evening to try this.