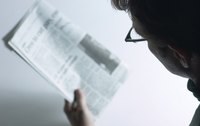 One of the most common methods you can use to write a news article is the inverted pyramid -- placing the most important information at the beginning and leaving the least important supporting facts toward the end to be cut if needed to fit the space allotted for the article. This is a formula that works and is an easy way to arrange facts in a hard news or other type of article. This method also can be used to write concise articles for online publications.
Gather your notes from research and interviews you've done on the story so you can begin to write your news article.
Start by determining what you will use for your lead -- the first paragraph -- that hooks readers to draw them to read on. It should tell readers what the article is about and even what's most interesting about it.
Write the lead to explain the who, what, where, when, why and how of the story and answer the question, "Who cares?" Your lead won't likely include all of this information, but put the most relevant points in the first paragraph and answer the other questions prominently in your article. The Poynter Institute explains the concept of the inverted pyramid this way: "The pyramid has to be big at the top because it must answer all the questions that readers have."
Arrange the remaining information from your notes in paragraph form in descending order of importance. The paragraphs should provide supporting facts to back up the initial report of who, what, when, where, why and how. Write about the most important aspects of the story and work your way down the list of facts and quotations you've gathered, placing the least critical elements at the end.