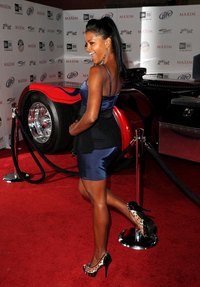 Looking beautiful and turning heads is a common natural desire for women. Everyone has their days when they want to lounge around the house or even throw on sweats to run errands, but there are always times to impress others too. Looking stunning takes a lot of work on your physical appearance, but it also means having an attitude that shines and makes you stand out from the rest.
Things You'll Need
Positive attitude
Carefully chosen attire
Makeup
Accessories
Styled hair
Flawless skin
Manicure/pedicure
Perfume
Jewelry
Smile
Take a nice, long, soothing bath to relax your body and mind. Add oils to soften your skin. After you bathe, moisturize your skin with lotion and body oil.
Go to the salon and have your hair done in a sophisticated style. You may want an updo or to wear it down. Choose the style that flatters you the most. If you are a "do it yourself" woman, it's pretty easy for you to create more unique styles. Big hair is beautiful and very attractive. It takes a confident woman to pull off that look. Choose the style that you can work the best.
Choose an outfit that accentuates your best features and commands attention. Make sure that it's not too over the top. You want to look classy, not flashy. Dresses are the definition of femininity. However, pair some trendy pants with a stylish blouse and you can create the same alluring effect.
Choose shoes that are not only comfortable, but stylish and unique. Shoes will make or break the entire look, so make sure they complement the style of your outfit and your body.
Find the right handbag, which is a must-have accessory for every woman. It completes the outfit and gives you a place to keep your makeup, money, ID and other necessities. A clutch is usually the most classy choice, especially if you're wearing a dress.
Wear as much makeup as the occasion will allow. You don't have to wear makeup every day, but when going for the stunning look, makeup is a plus. It shouldn't be used as a cover-up, but as an enhancer. Choose colors that aren't too bold, but complement your skin tone and most attractive facial features. Makeup should be soft, not sharp. Eyeliner, eyeshadow and mascara will bring out your eyes. Foundation will create a flawless appearance. Lip gloss will create luscious lips. Add a little blush for the finishing touch.
Wear the right earrings for a glamorous effect. Be sure to choose a pair that complements your hairstyle and overall look. If your earrings are large and flashy, you won't need a necklace. But if your earrings are small, you can go bigger with the necklace.
Be sure to have a manicure and pedicure to give you a stunning, polished look. This has a way of making every woman appear elegant and flawless.
Smell so good that men and women cannot help themselves from complimenting you. Be sure not to spray it on too strong. You want to create a soft, pleasing aroma -- nothing too strong or offensive.
Make sure you smile and have a friendly attitude, or all your hard work will be for nothing.