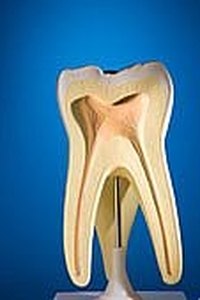 Dry sockets can easily be described as excruciatingly painful, debilitating and horrific to experience. 'What are dry sockets' you may ask? Dry sockets occur when a tooth is pulled and the nerve endings inside the jaw are exposed to the outside environment. Follow a few simple steps to help make your dry sockets less painful so you can perform your regular daily functions.
Things You'll Need
Clove Oil/ Clove Extract
Cotton ball
After the tooth is pulled: Do not remove the gauze or cotton too early. By removing the packing substance, you can destroy the blood clot that closes in the gap in your tooth; and make yourself prone to dry sockets.
Keep your mouth clean: After having your tooth pulled you will not be able to brush your teeth, suck on substances with a straw, or chew extensively with that area. Try to keep your mouth clean by using approved mouthwash or salt water and slowly swishing the substance while trying to avoid the open socket. In order to get the socket completely clean you may want to try filling a dropper with lukewarm water and squeeze it into the cavity, then wipe away any debris.
Once dry socket occurs: Try to keep the area packed with medical gauze or cotton (try using a Q-tip). If the pain begins to increase, attempt to get in to see your dentist as quickly as possible. The dentist can put a substance over the hole at the base of your socket and effectively "seal" the hole above the nerve ending. After the sealing the dentist can more easily pack the socket with gauze or cotton.
If pain returns: Many times the sealant does not last for long periods of time. After debris removal, try to put clove oil (also known as clove extract) drops directly into the socket and then on the packing that you place into the socket area. The oil is a natural topical anesthetic and can help soothe the pain. Over the counter products such as orajel may help slightly but will not eliminate the pain completely. Another remedy that may help is to place a cool ice pack against the affected jaw.
Request painkillers: Many times your dentist will provide a prescription for painkillers because of the discomfort dry socket causes. If no painkiller is prescribed, over the counter medication can be taken in appropriate doses.