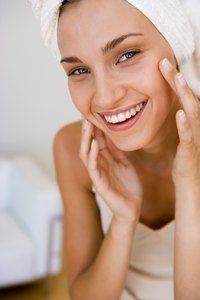 Aging may be inevitable, but damaged, wrinkled skin does not have to be a part of the package. Although genetics play a role in how quickly your skin ages, environmental factors can have a significant impact. Sun exposure, a poor diet and bad habits can all accelerate the aging process and wreak havoc on your complexion. No matter what your age, there are various ways to keep your skin young looking and avoid further damage.
Protect your skin from ultraviolet light. According to the American Academy of Dermatology, excessive exposure to sunlight breaks down collagen and elastin, resulting in wrinkles and sagging. Overexposure to sunlight can also result in age spots, blotchiness and a dull complexion. Apply a broad-spectrum sunscreen anytime you venture outdoors, and avoid being outside during peak hours of 10 a.m. to 4 p.m. when the sun's rays are the strongest. For added protection, wear a hat and sunglasses.
Stop smoking or don't start. In addition to depleting the skin of essential nutrients such as vitamin A, smoking causes the blood vessels to contract, impairing blood flow to your skin and depleting it of oxygen, according to the Mayo Clinic. The chemicals in nicotine also damage collagen and elastin, causing further sagging and wrinkling. Quitting smoking gives your skin a chance to repair the damage.
Ditch the junk food. Processed foods, soda and sugar are detrimental to maintaining a youthful complexion. Because processed foods lack nutritional value, they deprive your skin of the essential nutrients it needs to stay healthy. Sugar causes an inflammatory reaction in the skin, resulting in a stiffening of collagen and elastin fibers, wrinkles and sagging skin.
Increase your intake of superfoods such as salmon, blueberries, green tea and walnuts. These so-called superfoods are packed with anti-oxidants or essential fatty acids -- two essential ingredients for young, radiant skin.
Combat stress with yoga, long walks or power naps. Stress can produce skin-damaging hormones, and a lack of sleep can deprive the skin of essential nutrients. Make a commitment to regularly take part in a stress-reducing activity.
Exercise regularly to maintain a healthy glow. Whether it's jogging, biking or yoga, exercise encourages the flow of oxygen in the blood stream, releases toxins and improves circulation.
Visit a dermatologist or aesthetician regularly. A professional can assess the condition of your skin and prescribe strong topical treatments to encourage skin cell turnover and reduce fine lines. Skincare professionals can also perform chemical peels or laser treatments to undo the signs of past damage.