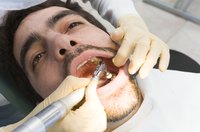 A gum boil occurs when a tooth becomes abscessed. This occurs around the root of the tooth, and pain is often felt in the bone or the jaw. A person suffering from a gum boil may experience swelling on the face, earache and fever. He may also notice a foul taste in his mouth. This pain may quickly turn to extreme pain.
Seek immediate medical attention. Unfortunately, a gum boil can't be treated naturally. It requires immediate medical care to resolve the issue and get your pain under control. If you can't get a hold of your dentist, you can visit your local emergency room for care.
Request mouth X-rays. The only way to diagnosis a gum boil accurately is to get X-rays of the affected area. This will allow the doctor to make a proper diagnosis of the condition.
Be prepared to hear that you might have to have a tooth pulled. This will allow the gum boil to drain, which will aid in healing. Your medical provider will administer pain medication to ensure your comfort during this process.
Ask the dentist if a hole can be drilled to save the tooth. If the tooth has a normal appearance to the gum and bone support, the tooth may not need to be removed. A hole is drilled through the top of the tooth to allow draining of the affected area.
Know that you may need a root canal. This is typically preformed after the affected area begins to heal.