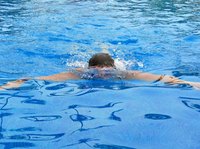 Type 2 diabetes is a disease that impacts the way your body deals with blood sugar. The disease will cause your body to either stop reacting to insulin, which is needed to absorb blood sugar, or stop producing the required amounts of insulin. There are many risk factors associated to developing the disease, but the most common are related to diet, weight and your activity level. There is no cure for Type 2 diabetes, but there is a lot you can do to prevent yourself from developing it. Follow these helpful guidelines.
Eat healthy foods to prevent Type 2 diabetes. Eating fruits, whole grains and vegetables are essential part of a healthy lifestyle diet.

Start a physical activity regimen if you are not active. Start gradually with at least 30 minutes daily of moderate physical activity, such as a brisk walk, a bike ride or lap swimming. The 30 minutes can always be broken into smaller exercise segments if you don't have the time.
Lose excess weight, as this will lower your risk of acquiring Type 2 diabetes.
Visit your doctor to determine your risk level to developing Type 2 diabetes. If you are high risk or pre-diabetic, your doctor can determine if you need to start a regimen to delay or prevent diabetes.
Keep a handle on your health issues and keep them in check to minimize your risks to developing Type 2 diabetes. Besides being overweight, there are other health problems that put you at risk to develop diabetes. These include high cholesterol, smoking, high blood pressure and high blood glucose levels.
Get more involved in your health especially if you suffer from glucose intolerance or pre-diabetes. A recent NIH study shows that by using the prescription drug Metformin, with lifestyle and diet changes, you can prevent or delay the onset of Type 2 diabetes.
Keep abreast of developments in the medical field. A National Institute of Diabetes and Digestive and Kidney Diseases funded study showed that a certain protein revived the pancreas' ability to release insulin. This research is still in the early testing phase.