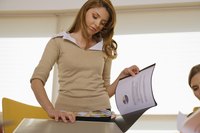 While federal regulations require U.S. public companies to file an annual report, nonprofits, organizations and small businesses can also use annual reports to build marketing, attract donors or customers, increase credibility from the media and public and bolster reputation within their field. To create an effective annual report, invest time and resources into careful planning and build in time for last-minute tweaks or changes from the boss.
Get the organization's leader input on the style, scope, intent and overall message of the annual report. Having the leader's insight before the process begins will avoid multiple and costly changes.
Determine the necessary sections of the annual report. Public companies must include specific sections to meet federal requirements of the Sarbanes-Oxley Act. Other report elements include a title page and back cover, a letter from the organization's leader and sections detailing finances, the organization's history and recent accomplishments, staff listings and recognition of volunteer contributions or donations, if appropriate.
Create the budget and timeline for the report's completion. If the report is printed, the budget must also include production and mailing costs.
Assign report sections, production elements such as graphic design and due dates to company or staff members. Explain that each section must meet the organizational leader's expectation, the budget and the deadline.
Proofread the final report. Look carefully at captions and graphic design sections, where typos tend to hide. Assign a staff member unfamiliar with the content to read for mistakes and one with knowledge about the company to proof read for inconsistencies or misleading information.