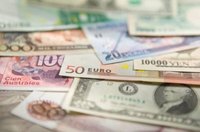 For many people, the thought of trading international currencies evokes images of rich guys jet-setting around the globe making million-dollar deals, sipping champagne, and driving expensive sports cars. While this is an accurate description of some currency traders, you might be surprised to find that many more are just regular people living in the suburbs and making a good living.
There are many misconceptions about what it takes to become a currency trader. First of all, you don't need a degree in economics or finance to become a currency trader. In fact, you don't need a degree at all (although a degree certainly doesn't hurt). Another common myth is that you have to live in New York or London and trade on a major exchange. The fact is that the largest currency exchange in the world is in Chicago, but individual currency traders live in every city around the U.S. and go to work in regular offices.
There are two platforms for trading currencies. There are exchange-traded currencies, which require a license to trade, and there is the FOREX (FOReign EXchange), which does not require a license. The path to getting a job in either format is the same, with the exception of acquiring a license to trade exchange-traded currencies if that is your chosen career path.
Familiarize yourself with each major currency and its corresponding contract size. Actively traded currencies include the U.S. Dollar, the Euro, the Japanese Yen, the Canadian Dollar, the Australian Dollar, and many others.
Find companies hiring currency traders. These include established brokerage firms, boutique currency firms, FOREX firms, and hedge funds. Many are willing to hire trainees and teach them the business. Search your local newspaper and job resources, and search the Internet for firms that are hiring.
Pass the Series 3 exam. If your chosen career path includes trading exchange-traded currencies, you will need a Series 3 license. The test is 120 questions and lasts two and a half hours. Currency trading is actually a small part of the test, and passing the Series 3 enables you to trade any commodity futures or options contracts.
Join the training program of your chosen employer. You will not make much in training; probably less than minimum wage if you break it down on an hourly basis. Hang in there -- the big money comes later if you know what you're doing.
Trade for profit. The more money you make for your firm and your customers, the more money you will make!