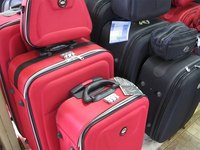 Never pay excess luggage charges again. Airlines are imposing stricter standards on checked luggage, and knowing the weight of your bag before you reach the ticket counter could save you a lot of money.
Complete packing for your trip, ensuring all containers with more than 3 oz. liquid are in your checked luggage. Remember to include anything in luggage that could resemble a sharp object such as nail clippers, corkscrews and pocket knives. These can not go in your carry-on bag.

With your luggage zipped and ready to go, set your luggage on the bathroom scales and check the weight. Some may find this difficult and cumbersome, because in order to see the numbers on the scale you may have to tip the bag--which makes this method somewhat inaccurate.

For better accuracy and convenience, buy a digital luggage scale. With these compact scales, you can attach the hook to your handle and raise the bag off the ground. The digital counter will give you a pretty accurate weight. Just make sure the scale you choose goes up to at least 60 pounds. These scales are lightweight and compact enough to bring along on the trip for your return weight check.

Purchase luggage constructed with built-in digital scales from Ricardo of Beverly Hills. They offer their Solutions line, which has a 25-inch and a 28-inch suitcase with built-in scales. Just pack and push the "On" button, lift the bag by the handle and the LCD displays the weight of the suitcase and its contents in lbs. and kg. When you are ready to return from your vacation loaded down with souvenirs, you will know exactly the weight of your belongings before hitting the ticket counter.