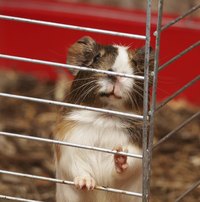 Bumblefoot, also known as ulcerative pododermatitis or just pododermatitis, is a serious condition of the foot pads that can be treated with wound cleansing, medication and changes to the guinea pig's environment and diet. It's caused by staph bacteria. Untreated, bumblefoot can cause infection of the bones and tendons, leading to death.
Recognizing the Symptoms
Bumblefoot primarily affects the bottoms of the feet and usually appears in the front paws first. In severe cases, pododermatitis can result in swelling, ulcers, scabs, inflammation of the tendons, pus, lameness, warmth in the joints and swollen paws. If you catch symptoms early, you may only see redness on the soles of the feet.
Guinea pigs who suffer from bumblefoot may exhibit lethargy, weight loss and loss of appetite. They may hide or cry out in pain as well, especially if the feet are touched or the joints are moved.
Identifying the Cause
Improper bedding is one of the leading causes of this condition. Hard or abrasive surfaces, such as concrete, wire cage bottoms or carpeting puts undue strain on the feet and may lead to wounds and infection. Wet bedding, especially if it is soaked with urine, can also lead to inflammation and infection.
Obesity can also lead to bumblefoot. Excessive pressure placed on the feet by the extra body weight can eventually cause sores.
Vitamin C deficiency may be another culprit in this type of infection, both reducing the body's resistance to disease and making it uncomfortable for the guinea pig to move, putting more pressure on the feet. Other conditions that reduce mobility, such as arthritis or musculoskeletal disease, may also play a role.
Tending to the Wounds
Veterinary wound care is essential to treating bumblefoot. In severe cases, surgery may be necessary to drain any abscesses and remove dead tissue, although this is typically avoided if possible. Your veterinarian may soak the feet in a saline solution to clean them and flush the wounds with a disinfectant solution.
Once the wound is cleaned, it will be covered with a padded wound dressing. Your veterinarian may also use hydrogel or silver sulfadiazine cream to combat infection. The bandage will need to be changed frequently to keep the wound clean.
Using Medication
Depending on the severity of the pododermatitis, your guinea pig may also need medication. Antibiotics to combat infection may be necessary for up to six months. Anti-inflammatory medications and painkillers may be prescribed as well, especially if the ulcers are severe. Your guinea pig may also need a vitamin C supplement if vitamin deficiency played a role in developing the disease.
Preventing Recurrence
Bumblefoot may take between two and six months to heal completely. During that time, it is crucial to follow veterinary advice and get the wound re-examined at least once every two weeks.
Eliminating the cause of pododermatitis is the best thing you can do for your healing guinea pig. Make sure her bedding is appropriate, soft and clean at all times. Continue offering vitamin C supplements if your veterinarian OKs doing so. If your guinea pig is obese, carefully reduce her daily food intake and encourage exercise by providing her plenty of space. Proper daily care is the key to preventing bumblefoot in the future.