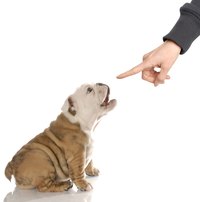 Barking is a puppy's ways of communicating, so looking for an ''off'' button won't be of much help until you start understanding exactly what your puppy is trying to convey. Once you determine whether your puppy is barking because he's hungry, lonely or trying to grab your attention, you need to take appropriate action before your puppy's barking gets out of hand. The good news is that puppies are fairly easy to coach when they're young.
First Night Barking
If this is the first night you got your puppy and he's barking his lungs out, he might be missing his littermates and mom. Going to a new home and encountering new faces, new smells and new noises can be intimidating to a young pup. Add being placed in a crate and confined at night in an unfamiliar place all alone, and you have the recipe for an overwhelming experience. Keep your puppy in a crate or box by the side of your bed the first nights so he'll feel comforted by the sound of your breathing and so you can reassure him as needed.
Needy Barking
Don't be too quick to label your new puppy as a barking machine and tell him to hush; chances are, your puppy is trying to tell you something important -- like he's hungry, thirsty or cold. Puppies have basic needs, and it's your job to ensure they are met. Check his water bowl and offer a blanket. Also, make sure he's not telling you that it's time to go potty, as this is certainly something you definitively want to know.
Lonely Barking
Dogs are family-oriented beings. Provide your puppy opportunities to play and spend time with you. Make sure that he has eliminated and that all his needs are met before confining him. If your puppy starts barking the moment you place him in a crate, exercise pen or room away from you, most likely he's asking to be let out. Unless it's time to go potty, avoid going to him and letting him out when he's actively barking as doing so will teach him that barking works. Wait until he's quiet to let him out.
Fearful Barking
Sometimes puppies bark at things they perceive as scary. Puppies go through a fear period when they're between the ages of 8 weeks and 11 weeks old. During this time, scary events may have a lifelong impact. It's a good idea to avoid exposure to such events. If your puppy appears to be afraid or barks out of fear, don't force him to interact with the subject of his fears; rather, step in and remove him from the situation.
Attention Barking
Sometimes puppies feel bored and will try to grab your attention by barking. Address this before it becomes a bad habit. Turn your back on him and ignore him as much as you can. Even scolding your puppy or pushing him away can be a form of attention.
When your puppy's barking fit is over, acknowledge the quiet with your attention and a food reward. To prevent future episodes, give your puppy productive things to do like play with an interactive toy.
Playful Barking
Watching your puppy's body language when he's barking may tell you he's in a playful mood. When your puppy keeps his head low, his rump in the air and his tail wagging as he emits high-pitched barks, he's doing a play bow to invite you to play. The excited barking may be accompanied by nipping your heels and pant legs. You can curb this behavior by giving the youngster a brief time-out. Attach to his collar a short, lightweight leash, also called a tab, so you can swiftly remove him from the play area until he calms down. With time, your boisterous pup should learn that his wild barking -- and nipping -- ends the fun.