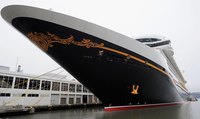 If you're looking to book a cruise, a Disney cruise can take you to destinations including Alaska, Hawaii, California, the islands of the Caribbean, the Bahamas and Europe. The cruise line also has transatlantic cruises. While you probably have a specific destination and time frame in mind, you'll have the best luck getting a discount cruise by being flexible with dates and ports of call.
Look at Disney Cruise Line's "Special Offers" page to find out about limited-time offers on certain cruises.
Be flexible with your dates. If you're trying to book a cruise during the summer months or during the Christmas holiday, for example, you're going to pay the highest prices.
Get quotes from several agents and check the fares available right from Disney Cruises.
Take advantage of discounts Disney offers for certain people year-round. Visit Disney's "U.S. Military Rates" or "Florida Resident Rates" pages to find out which sailings have available discounts.
Sign up for the Disney Visa card and book your cruise with it. You'll receive on-board credit you can use for various amenities. Using the Disney Visa for your purchases throughout the year allows you to accrue reward points, which you may redeem for airfare to the cruise port.