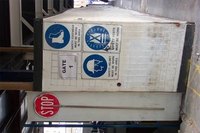 There is a financial and personal risk involved in unsafe practices at work. Keeping the workplace safe saves money and helps to foster better relationships between workers and management. Increased insurance costs, lower productivity and plummeting morale are all areas that are impacted by safety issues. The tips below will help you to recognize unsafe work practices and give you ideas about ways to address them.
Ask the questions. As you go through your working day, ask yourself questions about each activity you participate in. Is it safe? What could go wrong? If something goes wrong, how badly is someone likely to be hurt? This process is called risk assessment and will help give you a better idea of the specifics of the work you perform and the possible risks.
Plan a better working environment. Take a step beyond identifying possible problems by coming up with potential solutions. They could include worker education, the addition of safety equipment like goggles, or the redesign of the work area or equipment to eliminate unsafe conditions.
Evaluate your plan. Some changes are beyond the scope of one individual, but that doesn't make them impossible. Modifying the workplace to make it safer is good for everyone. If a redesign is necessary to prevent injuries, make a note of it. Large changes will impact smaller ones like operational modifications or training, but they have to be identified before they can be acted on. A worker, supervisor or manager is in a good position to spot problems and begin advocating changes.
Push for better education. Better training invariably results in better performance. Understanding safety procedures, taking refresher training courses and helping to maintain a culture of safety awareness is good business.
Keep the lines of communication open. Whatever your position, you can be an advocate for a free exchange of information. Push for a method in which employees can make safety suggestions easily. Request incentives that will make a proactive approach to workplace safety part of the culture where you work.
Enforce the rules. Procedures aren't effective if they are not enforced. After a safety push, awareness is high, but as time goes by workers and managers can become less strict in their implementation of even basic safety measures. Make workplace safety a priority every day, for yourself and for others.