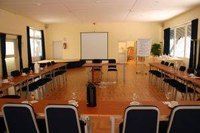 TO SEE MY OTHER ARTICLES, CUT AND PASTE THIS LINK - http://www.ehow.com/members/TheHabe-articles.html. Being a successful trainer can be a lucrative and rewarding career. Whether you are working in a corporate environment teaching customer service or sales skills, or you are working in a more hands-on manufacturing company training people on using different types of machinery or computers, the skill set for a successful trainer is the same. Here are some guidelines on becoming a successful trainer in a human resources department.
Obtain the necessary education. A bachelor's degree in a business-related discipline, such as business management or human resources, is the foundation for a successful training career. You may also come from a teaching or educational administration background, but a four-year degree is required. An MBA or other business-related master's degree will give you a firm edge over the competition and will be desired for a corporate job.
Learn the content yourself, on the subject matter you will train others to do. This may be a simple process, like learning to use a computer software program, or it can be very complex requiring six months or more of intensive preparation.
Develop a practical understanding of adult learning theory. Generally speaking, adults learn best by doing a task rather than being taught verbally how to perform a function. Repetition is the critical ingredient and reinforcement is critical to mastering a skill. You can best gain this expertise by working with adults in an intern setting with another trainer, similar to the process of student teaching for educating children.
Accurately assess obstacles to training before beginning a training session. In simplest terms, you study your students or audience to assess where they are relative to acquiring the new task. In the same group of learners, you may have a genius level individual and a student who is deaf or cannot speak the language. It is important to identify issues before spending time training someone who cannot learn in the traditional environment and needs special attention.
Follow the formula for teaching a job skill. Reinforcement is the most critical aspect of making the training stick. Always supervise the students in conducting the task for the first time and correct their work as needed. Repeat the trial runs until all aspects of the task are mastered.
Get feedback from your trainees. Always have a feedback survey prepared to administer to your students. In this way, you can determine what aspects of your own performance need to be improved. If there is consistency in the feedback, you need to put ego aside and make improvements to the way you are communicating and training others.