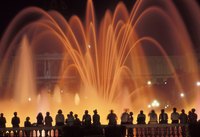 Since its dancing jets of water first shot more than 450 feet into the sky in 1998, the fountains outside the Bellagio Las Vegas hotel and casino complex have attracted daily crowds to what Frommer's calls "the best free show in Vegas." More than 1,000 fountain jets immersed in an 8-acre, man-made lagoon shoot, arc and sway for several minutes at least 28 times a day, every day, to symphony, pop, big band and show tunes broadcast over recessed speakers. The fountains of Bellagio, illuminated by 5,000 recessed light bulbs at night, are free to see on Las Vegas Boulevard, more popularly known as The Strip, in the heart of Nevada's world-famous desert gambling and entertainment city.
Fountain Show Times
The fountains of water are choreographed to create rhythmic arcs that shoot up, arc at angles and dance across each other, sometimes accompanied by floating clouds of mist, during shows that last from about two to five minutes, depending on the length of the tune. Show times begin every half hour from 3 p.m. to 7 p.m. every day and every 15 minutes from 7 p.m. to midnight every night and on holidays. On Sundays, early daytime shows are scheduled every 15 minutes from 11 a.m. until 2:30 p.m.
Fountain Show Tunes
The music you'll hear range from tunes made classics by Frank Sinatra, Lee Greenwood and the London Symphony Orchestra to "Viva Las Vegas," once sung by Elvis Presley. The music lineup of about 30 songs has rarely changed over the years, with tunes from The Beatles and Michael Jackson only added after 2000. The music lineup also includes Broadway tunes from "All That Jazz," "A Chorus Line," "Guys & Dolls" and "Sweet Charity." During any show, you might also hear a tune from a movie soundtrack such as "Titanic," "An American in Paris," "The Pink Panther" or other classic film.
Ideal Vantage Points
Wide sidewalks along Las Vegas Boulevard lead to the giant pool of water nicknamed Lake Bellagio. Walk or take the Las Vegas Monorail, which travels the boulevard, to the Bally's/Paris stop, across the street from Bellagio. You can walk right up to the lagoon's concrete banks and peer over, or step back and enjoy a wider view of the shooting jets of water. For views from above, you can eat and watch the show through windows at upper-floor restaurants or from walkways above street level at Bellagio or neighboring casinos.
Behind the Fountains
Special computer software programs operated from control rooms inside the Bellagio choreograph the fountain jets to release water to sync with the rhythms of the music recordings. High winds can cancel a show -- not because they will disrupt the choreography, but because they will disperse the airborne water. Since all fountain water is recycled in this arid city, losing that much water to the wind can prove costly. The coins many onlookers toss into the lagoon for luck have proven lucky for Habitat for Humanity. The coins are regularly vacuumed up to donate to the nonprofit that builds affordable houses for people in need.