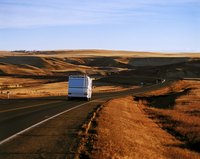 If making extra money on a regular basis is not a concern, delivering motor homes gives you a way to make some cash. Some companies offer sporadic year-round opportunities while others allow you to be inactive for more extensive periods of time. This is ideal if you want to make the delivery and then remain at the destination for a while. Keep in mind that the qualifications and requirements you must meet, along with the expenses you pay, can quickly devour the profits.
Requirements
Most companies have age requirements. For example, RV Transport Inc. requires you to be at least 25 years old with four years of driving experience. You also need either a Class-A commercial driver's license or a chauffer's license. If you make deliveries to Canada or Mexico, you need a passport to cross the border. You must take a physical and a drug screening test before you're assigned your first transport.
Equipment Needed
While a few transportation companies hire subcontractors to drive motor homes to their next destination, most require you to tow the home. That means you must own a truck, such as a three-quarter or one-ton pickup, capable of handling the heavy load. The truck can more easily tow fifth-wheel vehicles if you replace the stock gate with a v-gate. Four-wheel drive is an added bonus, helping you make it up steep hills in bad weather. Some companies require specific additions to your truck, such as installing a fifth-wheel hitch capable of towing a minimum of 14,000 pounds and a receiver hitch rated at 10,000 pounds.
Insurance and Deposits
Obtain liability insurance. Horizon Transport recommends its drivers obtain non-trucking liability insurance with a $500,000 minimum policy. Once you're assigned a transport job, you'll pay a deposit to cover any damage to the motor home. The deposit is credited to you once the vehicle is delivered without damage. You may also be expected to pay a small deposit to use the company's transporter plates.
Other Costs
You must cover all fuel costs during the transport with the per-mile fee you receive calculated to cover fuels costs. If fuels prices are high, this can leave you with very little profit. Plan to pay for lodging when transporting new motor homes, which are still factory sealed. You must also cover your own return trip home unless the company has another motor home you can pick up where you leave the first one.
Applying
Look for transportation companies that hire subcontractors. Before you apply, obtain a copy of your Federal Motor Carrier Safety Administration's pre-employment screening printout or a motor vehicle report from your state's Department of Motor Vehicles to show the potential employer. These documents show any accident and moving violations you've incurred.
What You'll Make
Once you take the motor home to its destination, the transportation company pays you based on the number of miles you have driven. When gas prices are low, you'll make more money. For example, RV Transport notes on its website that it pays between 99 cents and $1.07 per mile -- more for delivering motor homes over 40 feet long. Some companies also pay a safety bonus. If the motor home is not accepted at its destination, you also get paid -- but at a reduced rate -- for towing the motor home back to the dealer or manufacturer.