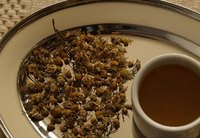 Create your own homemade facial. Through inexpensive and all-natural ingredients, you can achieve spa treatment results straight from the comforts of your own home. A facial steam is simple to create with ingredients that are convenient to find. In numerous cultures, chamomile tea has been long used for its health and beauty benefits. Infuse your homemade facial steam with chamomile tea and experience softer, more radiant skin.
Things You'll Need
Chamomile tea
Pot of water
Stove
Headband
Pony tail holder
Towel
Potholder
Astringent
Cold water
Get your facial steam ready. Boil water in a deep pot. Once you turn off the stove, place a chamomile tea bag into the pot. Let the tea bag sit for a few minutes for the chamomile tea to gradually release into the hot water.
Take your hair away from your face. Secure your hair with a headband, ponytail holder or another method.
Prepare the facial steam spot. Place the pot on the edge of a table and set a chair in front of the pot. Make sure it is enough distance for you to lean into the facial steam. Sit leaning forward in front of the steaming pot.
Create a tent by placing the towel over your head and above the facial steam. If the water is so hot that it is painful, wait for the water to cool until it is a manageable temperature. Remain over the pot for 15 minutes.
Rinse your face with cool water. Apply an astringent to close your pores.