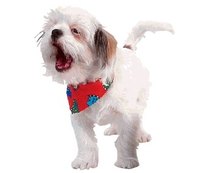 Dogs bark for various reasons. They bark when they need to go outside, when they are hungry, when a visitor enters the house or when they are defending themselves. Unfortunately, dogs can develop a terrible habit of excessive barking. With a little hard work, this habit can be fixed and your dog will only bark when it is supposed to.
Things You'll Need
Dog treats
Dog toys
Water
Spray bottle
Citronella collar
Say "stop" or "enough" after your dog barks one or two times to alert you to something. For instance, if a friend comes over, allow your dog to bark and simply tell the dog "stop." Give him a toy or a treat afterwards to praise them for not barking any longer.
Fill a spray bottle with water. If your dog ignores your "stop" command, simply spray it with the water. Once the dog stops barking, tell it what a good dog it is.
Purchase a citronella collar. The collar will emit a small amount of citronella when the dog barks. Since dogs don't care for citronella, they should seize to bark.
Take your dog to an obedience class. Your dog will learn many things, including when and when not to bark. The teacher could have an unique idea that will work for your dog.
Entertain your dog. Some dogs bark because they are bored or lonely. Pay attention to your dog by playing ball or taking it for a walk.