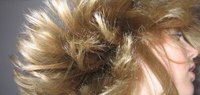 Hair that is voluminous looks healthy, luxurious and sexy. Some people are born with thick, full heads of hair. For the rest of us, adding volume to our hair takes work. There are numerous products on the market--from styling gels to blow driers to special brushes--that claim to make it possible (even simple) to add volume to your tresses. Rather than going into debt trying them all, go with some reliable steps that will give you considerable results.
Things You'll Need
Volumizing shampoo and conditioner
Volumizing mousse
Rollers or curling iron
Start with a cut that promotes the appearance of volume. If you have fine, thin hair, consider a bob or some other blunt hairstyle. If your hair has a bit of natural body and thickness, add layers or face-framing angles to give it more bounce. Thick hair should by styled to control frizziness and add shape. Layers are a good choice for this hair type as well.
Use a volumizing shampoo, paying special attention to your roots. Follow up with volumizing conditioner, being careful to only apply it to your ends. A common reason for limp locks is simple overconditioning of the roots.
Towel-dry your hair and apply a volumizing mousse. Distribute the product throughout your hair from roots to ends, using your fingers. Blow your hair dry one section at a time using a vent brush. Pick your hair up with the brush and dry the roots first to give it lift and bounce. When your hair is 90 percent dry, hang your head upside down and dry it the rest of the way. Finish by standing upright again and using your blow dryer's "cool" setting as you style your hair into place.
Part your hair to the side to add volume and height to the top of your head. If you always part it on one side, try parting on the other. You'll notice immediate "oomph."
Use the largest hot rollers or curling iron you can wrap your hair around. Wrap your hair tightly from the ends to the roots, remove the rollers or iron and run your fanned fingers through your tresses from underneath to fluff and style.