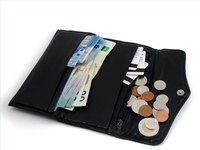 Creating a month to month budget can help you spend less than your income and save for future investments, such as a car, a house, an apartment, college or retirement. Creating a month to month budget makes everything easier for you because you will not be trying to stick to a monthly budget that is always the same. Each month is different and has different expenses that need to be addressed in your budget worksheet. Therefore, creating a budget before the start of every month is the best way to show what you have, what you need, and where the extra money will go.
Things You'll Need
Determine your income for the month and on a weekly basis. Write out what you expect to make on every Friday (or other payday) of the week. Next make a list of your expenses. The core ones are housing, groceries, electric, phone, cable, Internet access, gas, as well as clothing, school money, laundry, eating out, activities and savings. This is a list of where your money will be going. It is also a good time to cut down on things that are not necessities, or to cut them out completely.
Make a list for next month. Get four or five pages and write down your payday on the top of each one. Let's say we are doing November, 2008. So, you would write down November 7, November 14, November 21 and November 28. If your payday is different, just change it accordingly. Weekly works best even if you get paid bi-weekly or monthly, because it gives you a shorter time to divide the money. Write down how much money you will have for the first week.
Write down your expenses for the first week. Find out which bills are due this week and write them down. Do the same for all four weeks. Just write down all of your expenses. Figure out how much money you will need to spend on gas, groceries, eating out, and on all of your utilities. The first week is usually when we have to pay rent or mortgage, so include that. Add in what you will be depositing in your savings account. Don't have one? Open an account at your bank. Put some money in it every week.
Calculate how much money you will have left over for the next week, and then do the same as Step 3 for each week. Then calculate how much you have left over each week. You should be able to see a whole month of your income and expenses divided into four or five weeks. Now you have a month to month budget. Things can change from month to month such as birthdays, holidays, car registration and insurance, which is why it is best to do a month to month budget before the start of the next month. You could do month to month budgets for the next year if you want to.